Posted: Monday, February 3, 2014 6:25 PM
---
Don't get ripped off by paying $49.99 on CARFAX. Pay $15 for 5 Vehicle History reports!
Government vehicle data for less!
Get vehicle history reports from
www.VinAudit.com
Prices:
- 1 report for $10.00
- 5 reports for $15.00
- 10 reports for $20.00
Vehicle History Report includes:
- Title Records
- Odometer Checks
- Accident Checks
- Junk and Salvage Records
- Insurance records
- 60+ brand history check
For interested dealers, we offer a web, desktop, and mobile interfaces at the lowest prices in the market.
* $20.00 per month
* $1.00 per report
Go to vinaudit.com/dealers for more information.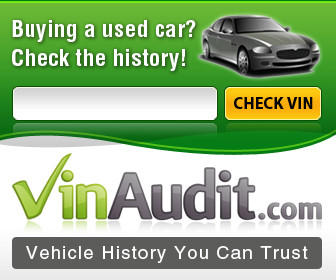 VinAudit is an authorized first level public access provider for the National Motor Vehicle Title Information System, a US government database for vehicle records where state Department of Motor Vehicles, Junk and Salvage yards and Insurance companies are required to report to.
• Location: Long Island, Manhattan, VinAudit LLC

• Post ID: 46593287 newyork