Posted: Sunday, October 27, 2013 9:15 AM
---
Reply: click here
PCMACMD
Your number one in Compter Repair!

iPhone / iPad FULL REFURBISHMENT !!!

OUR PRICES ARE LOW AND THE SERVICE IS FAST !!!
iPHONE 4 / 4S SCREEN REPAIR ONLY $80! AND VIRUS REMOVAL JUST $50 FOR TODAY!!!
iPAD 2 SCREEN REPAIR ONLY $139!!!
We offer THE BES DATA RECOVERY SERVICE IN NYC!!
LOW PRICES FOR MacBook LCD REPLACEMENT!
Here is some products we can repair for you:
iPhone 4 and 4s Screen
iPhone Water Damage repair
Head Phone Jack replacement
iPhone 2G 3g 3gs 4/4s Battery Replacements
iPhone sound/speaker repair
iPhone volume and mute button Repair
iPhone power button repair
iPhone home button repair
Software Repair Itunes Logo Stock
Jailbreak Service install free apps
We offer service for Blackberry

We also provide a wide range of services for Laptop, Desktop, and Mac like:

MacBook screen repair, cracked LCD screen replacement
Keyboard replacement (single key fix) on any apple laptops
Mac hard drive & RAM replacement (upgrade)
Motherboard repairs and replacement on any apple product
Computer not charging
Power jack replacement (battery)
Water damage motherboard repair for all Macbook's and Macbook Pro
Chipset and video card problem repair
Housing repair and replacement
We repair any apple computer also we do PC's

We also provide services for this aereas:

Forest Hills, Forest Hills Garden, Elmhurst, Lefrak City, South Corona, Kew Gardens, Kew Gardens Hills, Rego Park, Flushing Meadows, Richmond Hill

CALL NOW : 212-729-0113
Visit Website: WWW.PCMACMD.COM

PCMACMD 115-10 Queens Blvd, Suite LL1, Queens, New York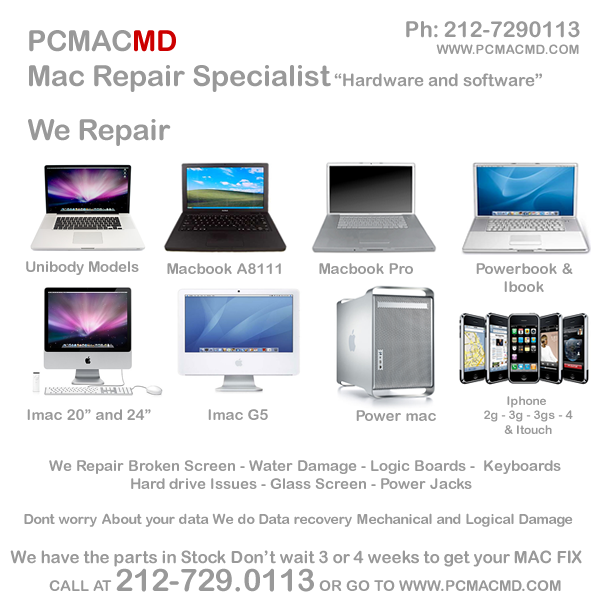 • Location: Queens, queens, forest hills

• Post ID: 37593458 newyork