Posted: Saturday, October 5, 2013 9:02 PM
---
Work as a private home tutor, music teacher or sports coach!
NextGuru.Com provides an efficient online platform for parents & students to find and connect with local tutors & teachers instantly. Since our launch in May 2011, over 24,000 music teachers, home tutors or sports coaches have already joined us. We are expanding in all main US cities to meet the growing demand. Please join us

via

http://www.nextguru.com/becomeatutor to create a free tutoring profile. Areas of instruction include :
Math (Calculus, Algebra, Calculus...)
Science (Physics, Chemistry, Biology...)
Test Preparation (SAT, GRE, GMAT, MCAT, ASVAB...)
Art and Music (Piano, Violin, Voice, Guitar...)
Sports and Recreation
English (Phonics, Reading, Writing)
Foreign Languages (Chinese, Korean, Spanish, Russian, Italian, French...)
Computers
And Many More...
Less Effort, Better Protection, More Opportunities!
Set up your free profile page including schedule, subjects, rate, specialty etc., which will be visible to students/parents right away.

Use our secure messaging system to communicate with students/parents while protecting your privacy.

Validate students' identities via NextGuru secure credit card payment solution. Avoid scams and focus on ONLY serious students.
As NextGuru is a BBB (Better Business Bureau) Accredited business, you can trust us with confidence.
How does it work for Tutors/Teachers (NextGuru tutoring does not collect commissions or agency fee)
Click http://www.nextguru.com/becomeatutor to create a tutor profile at NextGuru. You will get direct student inquiries and/or you can apply for posted tutor requests .

Unlike tutor agencies, NextGuru charges no commission. After the trial class, all dollars go directly to you. That is why thousands of tutors and students have already used our services!

Upload photos and publish your page on facebook and other social blogs to MARKET YOUR TUTORING SERVICE 24/7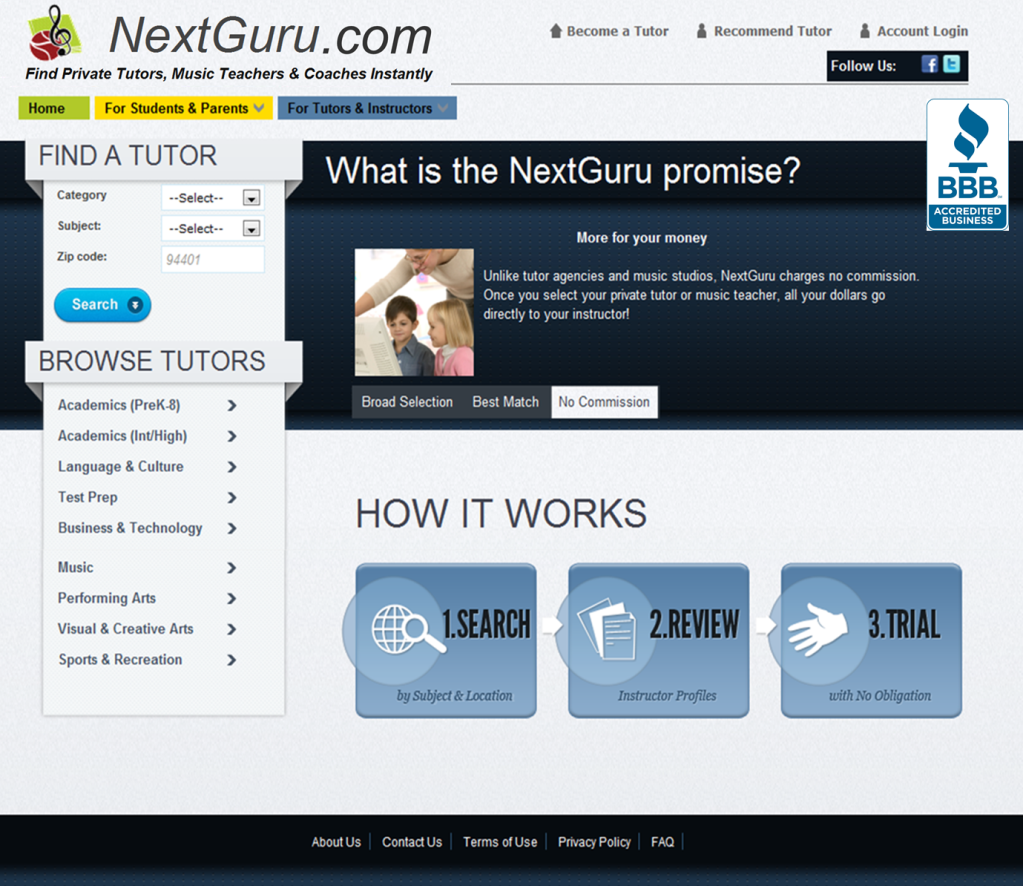 • Location: All Major US Cities, Manhattan

• Post ID: 42434260 newyork