Posted: Wednesday, May 14, 2014 10:13 AM
---
Brazilian Waxing In Manhattan New York.Best Brazilian Bikini Wax in Manhattan/ New York

Brazilian Waxes made affordable, with cheap prices at Dyanna Spa in NYC, all year round!

All New York women know that staying hair free with regular bikini and Brazilian waxing is crucial all year round. Yet when the weather gets colder, and the bikinis get stored far away for months to come in our Manhattan apartments, it's often hard to justify spending extra cash on a Brazilian wax. That's why the owners of New York City's best spa, Dyanna Body and Nail Salon, voted as a Best of NYC spa for waxing, Bikini wax, and Brazilian wax know that cost should never prevent a man or woman from getting their monthly wax.

Aside from searching for affordable prices, getting a bikini wax in a safe and secure environment is always most important for those seeking the perfect bikini line. That's where Dyanna Body and Nail Salon comes in. Not only is the price right with the Brazilian wax costing $40, but the aestheticians are great at what they do, and have won the prestigious Best Wax in NYC by Citysearch award 3 years in a row!
Visit Dyanna Body & Nail Salon Spa !

Dyanna Body and Nail Salon's no-nonsense Brazilian wax is quick and relatively painless. Dyanna Spa offers cheap manicures, as well as pedicures, waxing, facials, massages, anti-aging treatments, and much more, but it's the Brazilian wax priced at about a third of the competition's that keeps their faithful patrons coming back regularly.

Dyanna Spa stays open until 8p.m. on weekdays. So go ahead and make your appointment at Dyanna Spa today even though walk-in's are always welcome! The best part? You'll be in and out in time for your after work cocktails with the gals or that special someone.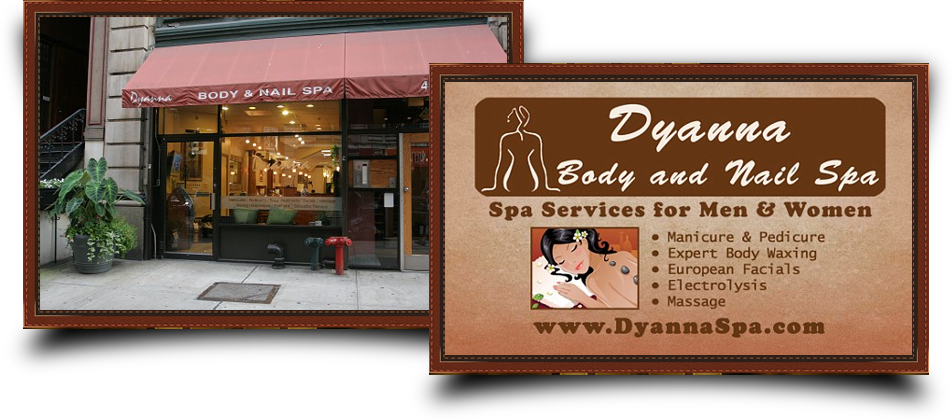 www.dyannaspa.com
Brazilian Bikini Waxing (No Double Dipping)- $40


To learn more about Brazilian waxing, bikini waxing, or any other kind of hair removal at Dyanna Spa, http://dyannaspa.com or call us at (212) 955 -2355..
Dyanna Body & Nail Salon Spa
40 East 21st Street Manhattan,NY
(212)995-2355
• Location: Manhattan

• Post ID: 17785492 newyork