Posted: Saturday, March 30, 2013 12:02 AM
---
www.LVPropertySearch.com - Limestone Investments, LLC. (Las Vegas, Nevada, USA)
Procedures for acquiring Multi Family (Multi-Plex) Properties:
Investing in Las Vegas Multi Family properties is simple with the right management and guidance from a reputable investment brokerage.
The purchase of a property by a married couple or single person is a piece of cake and the simplest process to purchase a property.
LLCs are the recommended entity for purchasing a property. HOWEVER, many LLCs do not have the ability to get financing.
(To obtain an LLC, feel free to contact Wendi – Our Staff Notary Public – by calling: 702-619-6215 or filling out our Contact Form. She can facilitate this process on your behalf.)
Partnerships are the most difficult entity and we will not work with partnerships greater than 2 parties. The purchasing phase of a partnership is a piece of cake. Problems always occur when major repairs are required or when it's time to sell the asset.
If you decide to use us for your property management, we charge a one time $1000 set up fee to wrap our minds around your existing tenants and leases.
Most landlords have deplorable records and we have found this to be exhausting.
Our full service property management is 8% or a $50 minimum per door.
We refuse to participate in Section 8 vouchers. We have found that the damage caused by these tenants far outweighs the guaranteed income and the cost to set up a tenant is ridiculous. If you want to use Section 8 vouchers to destroy your property, we have some competitors we can recommend.
Inspections run about $100 / door for properties under 20 units. Limestone Investments requires an inspection report.
Appraisals will cost about $3500 but are not required by Limestone Investments. If financing is used, your financial institution will require an appraisal and costs vary greatly. Since you have no control over that, you will just have to get over it.
Click on our advertisement below for more information on how to get started:
NEXT—–>>>>> (
Arrange Financing
)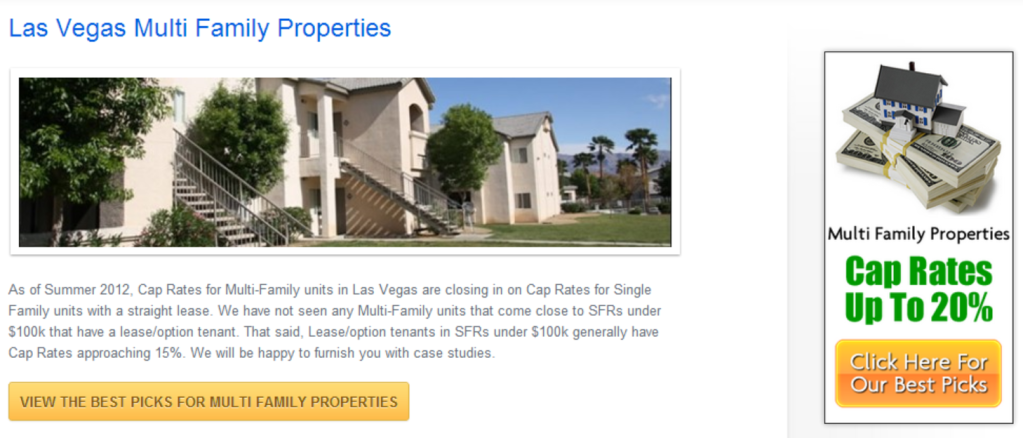 • Location: Las Vegas, Nevada, Manhattan

• Post ID: 34391181 newyork