Posted: Tuesday, October 8, 2013 1:33 PM
---
Reply: click here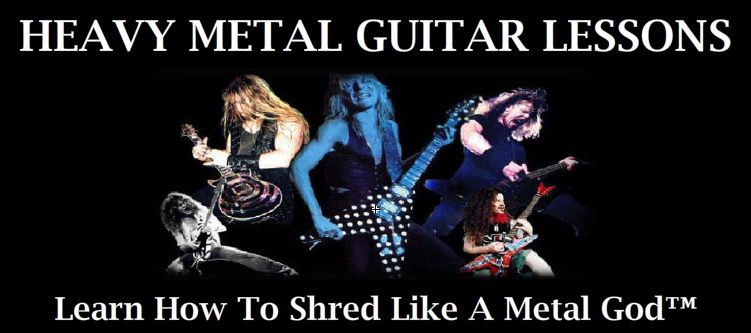 Experience the quintessential Heavy Metal Guitar Intensive taught by world-renowned creator of the SHRED LIKE A METAL GOD™ Method KEVIN DELANEY.
Lead, Rhythm, song structure and the essentials of music theory are explained quickly and simply in the context of the Heavy Metal genre.
Valuable exercises, techniques, patterns and just the right amount of theory will put you on the fastest possible path to a shredding metal style.
PRIVATE LESSONS for BEGINNERS thru ADVANCED are currently available at the following NEW YORK CITY location:

Recording and Rehearsel Arts Building
251 W 30th St. 9th Fl. New York, NY 10001
(Conveniant Midtown Manhattan location near Penn Station, NJ Transit, Port Authority, PATH and all major subway and bus lines)

For rates, schedule and lesson information please contact:

MANIC ENTERTAINMENT 212-340-1184

www.ShredLikeAMetalGod.com
www.Facebook.com/ShredLikeAMetalGod
www.KevinDelaneyMusic.com
www.Facebook.com/KevinDelaneyMusic
www.Soundcloud.com/KevinDelaney



******************************************************************

TESTIMONIALS:

"I have been playing the guitar for seventeen years. Kevin's lessons have helped me to look at the guitar and music theory in a new way. He breaks things down in a way that is easy to understand and will zone in on what you may personally need to improve on. Some people are great players and some people are great teachers, Kevin is both. He has been a genuine person and a professional, I would recommend him to both beginners and advanced players".

Chris D'Auria
Arc Of Descent
Long Island, NY


"I have played guitar for 8 years or so. In that time I have taken a lot of lessons, bought instructional videos, and even completed the 1 1/2 year GIT program at Musicians Institute. Kevin knows this stuff and can give you the tools to "Shred Like A Metal God". It is definitely worth your time and money if you are serious about shredding!"

Travis Fuller,
Vicious Destruction
Hollywood, CA


"Delaney's training not only added to my knowledge in guitar shredding, but inspired me to stop wasting time, pick out the Gibson & Marshall Stack that would work best, and represent AK SYNDICATE on a whole new level. Honestly, it is a dream come true to be singing & playing guitar! I highly recommend Delaney's training regimen for anyone who is serious about kickin' some ass on the main stage!!!"

Mark "Machine Gun" Stelley
AK SYNDICATE
El Paso, TX


"Kevin was great at helping me build a foundation of basic theory that i never learned... understanding the things i already knew how to play made moving forward with my playing much easier... not to mention he's got an endless bag of tricks that i still like to steal on a regular basis!"

LINDA LOU,
Cockpit
Hollywood, CA


"I gotta say man, building upon what you taught me really helped me get to where I am now with my playing. I mean, by no means am I done tryin to get better but I'm on my way!"

Pou Piam
Riverside, CA


"I have been a student of "Shred like a Metal God" for about six months. Kevin has helped me with guitar soloing techniques, rhythms, musical theory, scales and has opened new music up to me like Ozzy Osbourne and Van Halen. Kevin has inspired me to keep playing guitar and take it all the way".

John Dolan
12yrs old
Long Island, NY


"I am a 40 years old hedge fund professional. In my younger days I was a bass player. I hadn't picked up an instrument in almost ten years so I never thought I would be able to become a competent guitar player. I had tried studying with a couple of other instructors in New York but it just never seemed to click for me and I was forever stuck in the standard pentatonic minor scale. I gave the "Shred Like A Metal God" program a shot and in three months, Kevin's program has me playing at a level that I never could have imagined. Kevin is a patient teacher and utilizes an organized approach that mixes in theory, technique, exercises and practical application. I should mention that it doesn't happen through magic. The student needs to put the practice time in; but Kevin gives you all the tools you need to take your playing to another level. I highly recommend the "Shred Like a Metal God" program."

Robert Egan
Long Island, New York


"I've been taking lessons with Kevin for 1yr in person and online. In that time my playing and knowledge has improved way beyond what I thought I would be able to do. Kevin makes it easy to learn and you can quickly put what you learn to good use. No matter what your skill level is, Kevin can take you to the next level. If you're serious about improving your playing, I highly recommend taking "Shred like a Metal God" lessons. Kevin is an excellent teacher and truly "Shreds like a Metal God".

Mike Jochum,
The Kings
Sherman Oaks, CA


"After many years of playing I felt that I was trapped in the basic pentatonic box position, and my soloing ability was suffering as a result . I wanted to learn how to move around the neck more, gain a better understanding of the guitar, and generally break out of the musical rut I was in. After just a few weeks with Kevin I found that I could play in many more places on the neck and my technique started to improve. I also began to understand what I was doing. Kevin's logical step-by-step approach to teaching the building blocks of rock guitar is invaluable. He is not only an extremely patient teacher, but can also play like a madman! I can recommend Kevin for anyone who wants to improve their playing and understanding of the instrument".

Charles Brush,
New York, NY


"What a great find! The Shred Like A Metal God system is awesome. It has made it easier to find my way around the neck and has improved my sweep and speed picking. It has also helped with music theory and writing music. Kevin Rocks!!"

Jonathan Bell,
San Jose, CA


"Before taking Kevin Delaney's 'Shred Like A Metal God' lessons I was a self taught guitarist, with everything done my way but not exactly the proper way. Kevin took all my errors and showed me the right way to play, with great exercises and thorough explanations. I recommend Kevin Delaney's lessons to any guitar player who really want to master the fret board and SHRED LIKE A METAL GOD!"

Jonathan Ledesma
The Last Alliance
Queens, NY


"Kevin will teach you from how to properly stretch your fingers before playing all the way to music theory and everything in between. With Kevin its not about emotionless speed licks, but how to take your heart and pour it out on the fretboard".

Manny Maracine,
Van Nuys, CA


"Kevin Delaney has taught me so much about guitar playing as both a challenging technical endeavor and, more importantly, a fulfilling artistic practice. I've had many teachers who all seem to have some kind of agenda, from pushing the "best" music to the "right" way to hold the guitar. Kevin is different. He offers a tremendous amount of theory and technique but no ego. He encourages me to find my own voice, my own style, rather than mimic him or one of my heros. I began to improve after just a few really fun lessons. Last but not least, he kicks ass".

Adam Ames,
New York, NY


******************************************************************

ABOUT THE INSTRUCTOR:


KEVIN DELANEY

Guitarist Kevin Delaney was born and raised in Long Island, NY where he taught himself how to read music and play guitar by the age of seven. He would form his first rock band with neighborhood friends by the age of twelve and release his first professional record by age sixteen.

Throughout his early teens, Kevin studied classical guitar with Richie Cerniglia (Aviator/The Illusion) and applied theory with Al Pitrelli (Megadeth/Trans Siberian Orchestra/Alice Cooper) before landing teaching jobs himself within the neighborhood.

After High School, Kevin attended Five Towns Music College in Long Island, NY where he mastered in audio engineering and by age twenty, relocated to New York City where he continued teaching and started his music production and management company (Manic Entertainment) and record label (Manic Records) before moving west to Los Angeles in 1998.

Since the early nineties Kevin has written, performed, produced and released records with a wide variety of artists and labels around the world and has toured nationally many times over culminating into an impressive body of work.

In addition to being a musician in high demand, Kevin equally continues to be a much sought after guitar instructor both locally and internationally. His forthcoming DVD series "Shred Like A Metal God" (scheduled for a fall 2013 release) is based on the methods he created for his Heavy Metal Guitar Workshop which has visited 55 US cities and has included over 5,000 attendees worldwide since its inception in 2006.

A multi instrumentalist and gifted music producer, Kevin currently showcases his exceptional guitar and songwriting prowess on his debut instrumental album "The Awakening" which was released in 2009 on Manic Records and includes the single "Awaken" which has garnered over 10,000 downloads to date.

To learn more about Kevin Delaney and his music visit his official websites at:

www.KevinDelaneyMusic.com
www.Facebook.com/KevinDelaneyMusic
www.ManicEntertainment.com
www.Manic-Records.com
www.Soundcloud.com/KevinDelaney



• Location: Manhattan, Manhattan (Midtown Location)

• Post ID: 8581750 newyork