Posted: Friday, January 26, 2018 12:25 PM
---
PCMACMD
Your number one in Computer Repair!

iPhone / iPad FULL REFURBISHMENT !!!

OUR PRICES ARE LOW AND THE SERVICE IS FAST !!!

iPHONE 4 SCREEN REPAIR ONLY $60! SPECIAL OFFER TODAY AND TOMORROW!

iPAD 2 SCREEN REPAIR ONLY $110!!!
LOW PRICES FOR MacBook LCD REPLACEMENT!
Here is some products we can repair for you:
iPhone 4 and 4s Screen
iPhone Water Damage repair
Head Phone Jack replacement
iPhone 2G 3g 3gs 4/4s Battery Replacements
iPhone sound/speaker repair
iPhone volume and mute button Repair
iPhone power button repair
iPhone home button repair
Software Repair Itunes Logo Stock
Jailbreak Service install free apps
We offer service for Blackberry



We also provide a wide range of services for Laptop, Desktop, and Mac like:

MacBook screen repair, cracked LCD screen replacement
Keyboard replacement (single key fix) on any apple laptops
Mac hard drive & RAM replacement (upgrade)
Motherboard repairs and replacement on any apple product
Computer not charging
Power jack replacement (battery)
Water damage motherboard repair for all Macbook's and Macbook Pro
Chipset and video card problem repair
Housing repair and replacement
We repair any apple computer also we do PC's

CALL NOW : 212-729-0113
Visit Website: WWW.PCMACMD.COM

PCMACMD 62 WEST 47TH ST SUITE 1201, NEW YORK NY
(BWT 5AVE AND 6AVE)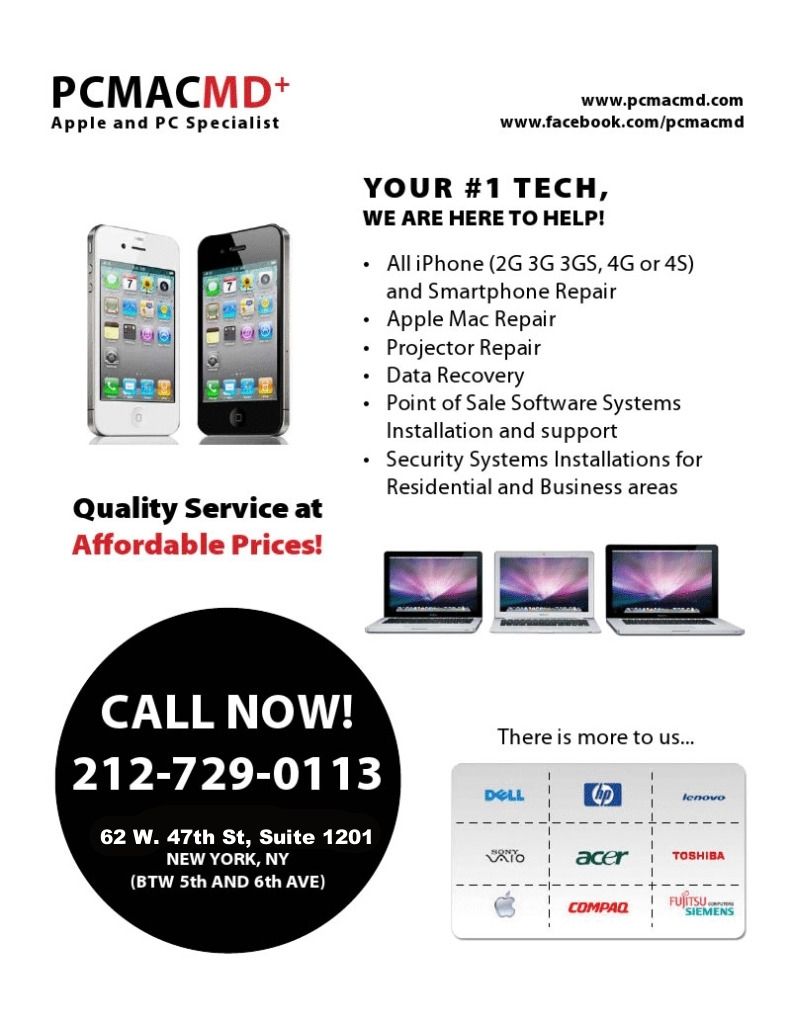 • Location: Manhattan

• Post ID: 36457696 newyork
Play it safe. Avoid Scammers.
Most of the time, transactions outside of your local area involving money orders, cashier checks, wire transfers or shipping (especially overseas shipping) are scams or frauds.
Report all scam attempts to abuse@backpage.com.